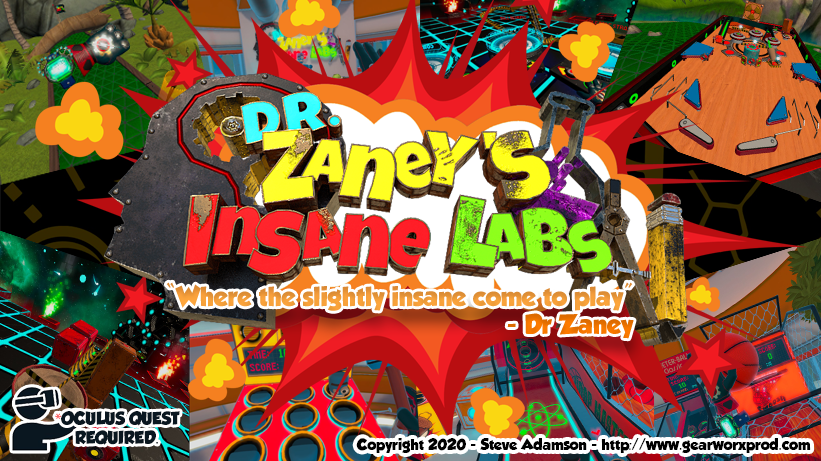 Dr Zaney's Insane Labs
Introducing Dr Zaney's Insane Labs for the Oculus Quest. Take a trip to the labs by strapping on your Quest and enter the strange mind of Dr Zaney, where you play in a collection of physics driven Labs & mini games. Fun & exciting family entertainment for all ages.
GENERAL FEATURES:

- FULL Physics driven game play!
- Full original composed soundtrack by Michael Gordon Shapiro!
- Additional Labs & Mini games for FREE! (via updates)
- Additional Courses, Objects, Toys and contraptions to be added to all existing labs for FREE! (via updates)
- Position, Scale, Duplicate, Set Mass, Power and many more options for all objects placed in the scene, you're in control, so get creative!
- Smooth locomotion with 45 degree turning & Smooth turn! (Press right thumbstick to toggle)
- Intuitive and easy pick up n play controls!
- Physics driven hand & finger placement for a more immersive experience!
- And MUCH more!
PINBALL LAB:
Choose your table environment, and build your own pinball machine! You can have a single table or a multi tiered table the choice is yours! Place Toys, Ramps, Teleporters, Flippers, Bumpers, Spinner Targets, Platforms and much more! Be creative and have fun. Or you can play a couple pre-designed tables. It's up to you!
LAB FEATURES:
- Start with a table base & build your dream machine from the ground up!
- FULL freedom of movement around or ON the table. (Great for room scale if you have the floor space!)
- Position, Scale, Duplicate, Destroy, Change points, Power and many more options for all objects placed on the table!
- Create multi tiered tables. Shoot your ball or teleport from one table to another. Sky's the limit!
- Choose from Toys, Ramps, Teleporters, Targets, Drop Targets, Bumpers, Spinner Targets and much more!
MINI GOLF LAB:
How about a round or two of mini golf? Select your course, select your hole count (Front 9, Back 9 or Full 18) And go for the cup! Or if you want to get really creative, why not try our "Contraption Golf Mode" Where you can setup track parts and more to get to the cup even faster! How you play is up to you! More awesome themed courses will be added to this lab for free in future updates!
LAB FEATURES:
- Select your course, and choose from front 9, back 9 or full 18 holes!
- Standard mini golf mode (Play a round on a ready to play course)
- Contraption Mode, Ramps and pipes are removed, create your own path to the cup with custom parts, which you can place anywhere! How you get to the cup is up to you!
CONTRAPTIONS / TRICK SHOT LAB:
Have you always wanted to set up a bunch of objects such as Dominoes, Elevators, cannons, trampolines, boosters, tracks, and much more, to see if you can make that awesome trick shot? But your house is too small or the wife won't let you? What about setting up a bunch of dominoes and watching them fall all in glorious VR? Well now you can in "Sandbox Mode" Or take your chances in "Challenge Mode" Where you can play in randomly pre-generated levels with a start and end goal, and it is up to you how you get there! Can you beat your best time?
LAB FEATURES:
- Sandbox Mode (Build n play with whatever you want!)
- Challenge Mode (Random, Pre-Generated levels, with start and end goals, can you beat your best time?
- Position, Scale, Duplicate, Destroy, Power, Mass and many other options on all objects placed in the scene.
- Elevators, Cannons, Boosters, Trampolines, Track Parts and more.
- Set up the goal object and other objects to create the best trick shot ever, and the best part is you do not need to clean up afterwards!
BREAK ROOM:
Here at Dr. Zaney's Labs Inc, We value employee input during our extensive lab tests, without you humans we would not be able to produce high quality products. As a special thank you, our employee "BREAK ROOM" has been equipped with some state of the art, retro arcade games for your enjoyment, in hopes to make your lunch break that much more enjoyable. We will be adding additional recreational games to our luxurious break room for your continual enjoyment soon! Currently feel free to play some Skeeter Ball, Hoop Master, Whack A Max, and more!

CURRENT BREAK ROOM GAMES (v1.0):
- Skeeter Ball
- Hoop Master
- Whack A Max
- With more to come!

WHY EARLY ACCESS?
As an indie solo developer I want to get the community involved to help shape this game further by getting additional lab requests, mini game requests and much more! I have lots planned for this project and by you early adopting the game it allows me to further develop the game. Additional objects / parts for all labs, additional mini games, additional courses and even whole new labs will be coming in future updates! All possible through your support now, so to all that purchase the game thanks so very MUCH!
Purchase
In order to download this game you must purchase it at or above the minimum price of $9.99 USD. You will get access to the following files:
DrZaneysInsaneLabs.apk
570 MB
Comments
Log in with itch.io to leave a comment.
Looks amazing. Hope Dr. Zaney does great!
Will be checking this out.
Awesome thanks for your support! I hope you like it :) Feel free to visit my Discord if you need anything! - https://discord.gg/ASdTQaJ